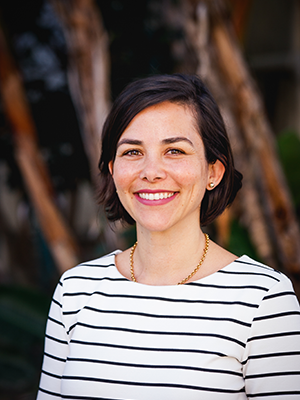 Renata Pawluk
Program Coordinator
About Renata Pawluk
Originally from Brazil, Renata has been a bit of a renaissance woman throughout her life. Her family moved to Miami when she was 10, she lived in Italy for 1.5 years, and traveled to over 20 countries. She was eventually "called" to her ultimate home — San Diego. She moved here to attend San Diego State and be with her (eventual) husband, Matt. With a degree in International Business, Renata graduated at the top of her class.

She began working at SDSU with the foster youth program (Guardian Scholars), and moved around departments a bit until she found her "home" at the Payne School in 2012.

5 Fun Facts About Renata

She has two gorgeous and sassy daughters, a four-legged son/dog, and six chickens.
She's an RTM hippie at heart and just wants to be in nature… she hiked 20 miles in three days through Havasupai Falls in 2019, and reads anything the RTM faculty sends her way.

Her dream is to buy a sailboat and sail around the world with her family for a few years.

She speaks four languages, but hopefully five soon, as her oldest is in a French immersion school.

She loves to help people and to listen to their woes, which is why any student, staff, or faculty is welcome in her office anytime for a chat or a hug.
Education
BA in International Business, San Diego State University, San Diego, California